Skip to Main Content
It looks like you're using Internet Explorer 11 or older. This website works best with modern browsers such as the latest versions of Chrome, Firefox, Safari, and Edge. If you continue with this browser, you may see unexpected results.
Carrie Mae Weems
Carrie Mae Weems: Kitchen Table Series

by

Kitchen Table Series is the first publication dedicated solely to this early and important body of work by the American artist Carrie Mae Weems. The 20 photographs and 14 text panels that make up Kitchen Table Series tell a story of one woman's life, as conducted in the intimate setting of her kitchen. The kitchen, one of the primary spaces of domesticity and the traditional domain of women, frames her story, revealing to us her relationships--with lovers, children, friends--and her own sense of self, in her varying projections of strength, vulnerability, aloofness, tenderness and solitude. As Weems describes it, this work of art depicts "the battle around the family ... monogamy ... and between the sexes." Weems herself is the protagonist of the series, though the woman she depicts is an archetype. Kitchen Table Series seeks to reposition and reimagine the possibility of women and the possibility of people of color, and has to do with, in the artist's words, "unrequited love." Carrie Mae Weems (born 1953) is considered one of the most influential contemporary American artists. In a career spanning over 30 years, she has investigated family relationships, cultural identity, sexism, class, political systems and the consequences of power. Weems' complex body of art employs photographs, text, fabric, audio, digital images, installation and video. Weems has received numerous awards, grants and fellowships, including the prestigious MacArthur "Genius" grant and the Prix de Roma. She is represented in public and private collections around the world, including The Metropolitan Museum of Art, The Museum of Fine Arts, Houston, The Museum of Modern Art and the Museum of Contemporary Art, Los Angeles.

ISBN: 9788862084628

Publication Date: 2016-04-26

Carrie Mae Weems: Strategies of Engagement

by

ISBN: 1892850338

Publication Date: 2018

An exhibition catalog published in 2018 in relation to an exhibition of her work of the same name held that year at Boston College.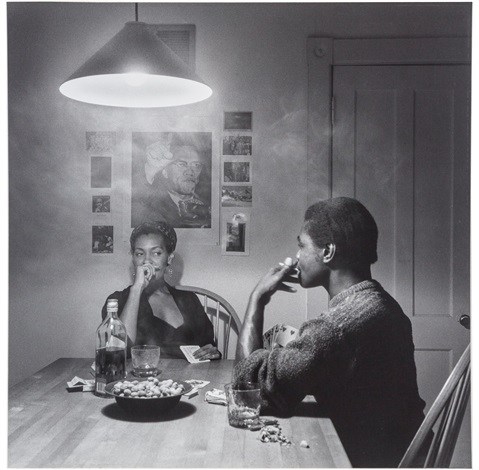 Untitled (Man Smoking from The Kitchen Table Series). Silver gelatin print.
Jen Everett
Installation view: Unheard Sounds, Come Through, Found objects Variable 2019
Doris Derby
Interview with Dr. Doris Adelaide Derby

Here Dr. Derby speaks with Erin Jane Nelson with Art Papers Magazine in an interview on her work, life, and involvement with the SNCC and the Civil Rights Movement.
Dirt & Deeds in Mississippi

by

Publication Date: 2015

A film produced in part by Dr. Doris Adelaide Derby that tells the history of Black landowning families in the deep South in the 1960's and their significant socio-political role on suffrage, land tenure, and political offices.