Skip to Main Content
It looks like you're using Internet Explorer 11 or older. This website works best with modern browsers such as the latest versions of Chrome, Firefox, Safari, and Edge. If you continue with this browser, you may see unexpected results.
About this guide
This section of the French and Francophone Studies Guide provides a wide array of library and online tools for the study of literatures.
Kolb-Proust Archive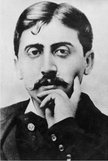 Kolb-Proust Archive for Research, located in 345 Main Library, makes available to scholars world-wide the research notes and documentation of Philip Kolb, professor of French at the University of Illinois and editor of the correspondence of Marcel Proust. Many of the documents are searchable and available via the Internet. Search the Collection
Marie de France, 12th century author