Skip to Main Content
It looks like you're using Internet Explorer 11 or older. This website works best with modern browsers such as the latest versions of Chrome, Firefox, Safari, and Edge. If you continue with this browser, you may see unexpected results.
Find More Related Materials:
Below are links to related subject searches in the UIUC Library Catalog. Some results are physical items in MPAL and are only available by request.
About This Exhibit
When an audience attends a theatre, their focus is generally on the actors, musicians and other performers they can see onstage. This exhibit, however, spotlights those people not often seen by the audience, but just as crucial to making a theatre performance work. These people include set designers, costumers, the lighting crew, stage managers, special effects experts and other personnel working behind the curtain.
This exhibit includes various resources about behind-the-scenes careers in theatre. These include introductory and general sources, specified items focusing on distinct areas of expertise and even a glossary of technical theatre terms.
Theatre--Behind the Scenes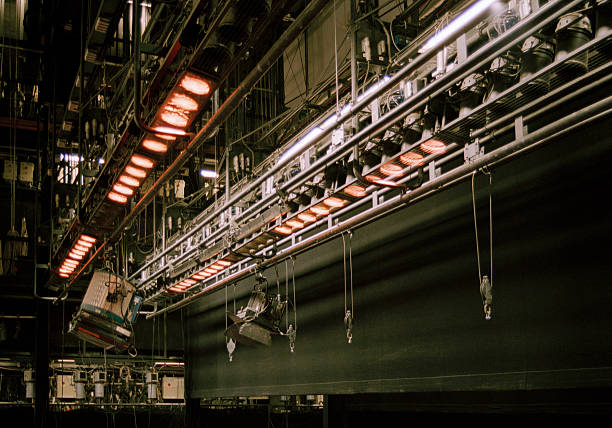 "Stage Lighting Equipment"--Getty Images
https://www.gettyimages.com/detail/photo/stage-lighting-equipment-royalty-free-image/80566725
Selected Items
Online items are available for immediate access. Physical items can be requested through the library catalog for pick-up.