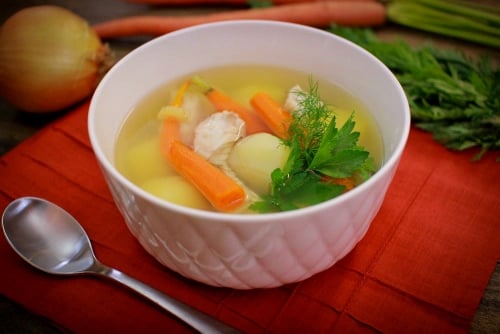 image from olgasflavorfactory
Ukha = Уха -- a traditional fish soup.From simple and hearty traditional dishes like the Ukha pictured above, to the dainty creations made with Beluga caviar (below), the Russian cuisine has to offer a world of culinary delights.
image from belugacaviarrecipes
Russian cuisine owes its variety of flavors to the multi-cultural giant of the Russian Empire. The peasant food of the vast serf population laid the foundation with a variety of hearty dishes made with grains such as rye, wheat, barley and millet, leading to a smorgasbord of pancakes, cereals and breads. Soups and stews were based on the seasonal or storable produce, fish, and meats. Also the fruits of the forest—mushrooms, berries and honey livened up the palate.
Russia's territorial expansion combined with growing openness to other countries brought in a plethora of new, refined foods and cooking techniques from abroad. This marriage of tastes, put in motion by the growing appetites of urban aristocracy and landed gentry, led to the great variety that characterizes the Russian cuisine today. The influence of the western chefs imported to ply their trade for Russia's elite resulted in the dishes familiar to us today, such as Beef Strogonoff or Veal Orloff. But do not stick to these dishes popularized by the West. Whenever you have a chance, sample the variety of Russian soups, which come in two varieties: cold (such as tiuria, botvinia, okroshka) and hot (like shchi, rassolnik, borsht, solianka) and many others. Then there is a whole world of main dishes, where you can detect the Eastern influence in the shashlyk, enjoy the variety of dumplings (pel'meni), stuffed pies (pirozhki), pancakes (bliny) … we're just touching the iceberg of Russian. Explore and enjoy – there is a lot more to Russian cooking than the cultural stereotypes would have us believe.
Here is a video detailing how to make solyanka, a Russian sour soup. Taken from twitter.com/Russia: