Skip to Main Content
It looks like you're using Internet Explorer 11 or older. This website works best with modern browsers such as the latest versions of Chrome, Firefox, Safari, and Edge. If you continue with this browser, you may see unexpected results.
ANNOUNCEMENTS
IDEALS upgrade is coming June 22. All documents and metadata are being migrated to a new platform. Handles will automatically resolve to the new platform.
Funk Library is open. You can browse our stacks and see our exhibits! Check our website for current hours.
Campus mail delivery is back Faculty, staff and graduate students can request items from the catalog and have them delivered to their office via campus mail.
Susan Braxton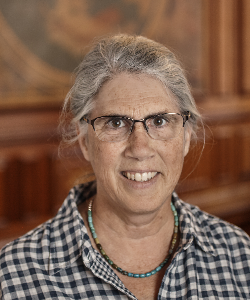 Susan Braxton
Prairie Research Institute Librarian
Funk Library
1101 S. Goodwin M/C-633
Urbana, IL 61801
217-333-5856
Library Research Assistance
Research support available from the University Library includes help with choosing and using library catalogs and databases, finding and accessing literature and other information, scholarly publishing guidance (e.g., journal selection and intellectual property rights), data management planning, and finding and using appropriate repositories for research output.
Funk ACES Library Events & Exhibits